Team & Partnerships
Angels Joy has teamed up with psychologists, rehab counselors, and yoga/meditation instructors. Our current partners are International Association for Human Values, Yoga Center of Orange County, New Life Treatment Center, Norooz Clinic, World Divine Light ("Divine Light purifies Spirit, Mind and Body. You can now have a great opportunity to experience this wonderful Spiritual Art."),
Himalayan Iyengar Yoga Centre
- Himachal Pradesh & Goa in India. They offer various Yoga Courses and Teachers Training Courses.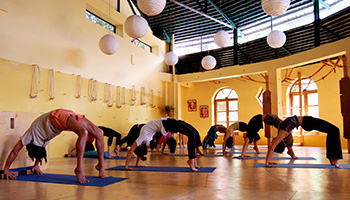 Upcoming Training & Events At Himalayan Iyengar Yoga Center
Yoga and Ayurveda Intensive Course
Venue: Himalaya Shanti Ashram
Date: 2 - 21 October 2017
Price: Consult
More Info
Chakras and Evolution of Consciousness Special Yoga Course
Venue: Goa
Date: 20 January - 8 February 2018
Price: Consult
More Info
Yoga & Meditation Silent Retreat
Venue: Himalaya Shanti Ashram
Date: 30 April - 11 May 2018
Price: ₹ 39,530 (Includes Tax 18%)
More Info
Yoga, Breathing and Meditation
An essential aspect of recovering from trauma is learning ways to calm down or self-regulate. For thousands of years, Yoga has been offered as a practice that helps one calm the mind and body. Yoga practices, including meditation, relaxation, breathing and physical postures, can reduce autonomic sympathetic activation, muscle tension, and blood pressure, improve neuroendocrine and hormonal activity, decrease physical symptoms, emotional distress, and improve quality of life.
Specific Benefits of the Workshop/Retreat for Victims of Violence
The experience of trauma affects the entire human organism—body, mind, and spirit—and that is why the whole organism must be engaged in the healing process. Yoga offers a natural healing process to any person who is a survivor of physical, emotional and sexual abuse/neglect, or any other severe traumas. For these reasons, Yoga is a promising treatment or adjunctive therapy for addressing the cognitive, emotional, and physiological symptoms associated with trauma. The workshop promises to reduce stress, create a greater sense of joy, happiness and enthusiasm, enabling the participants to experience a higher self-esteem with more confidence and an increased development of interpersonal skills.
Target Groups
This free workshop/retreat may be offered in a variety of settings such as centers and shelters for survivors of Human Trafficking; residential schools for troubled teens; domestic violence shelters; juvenile detention centers, and any community or residential facilities that are working with victims of violence and abuse in Los Angeles, San Diego, Riverside and Orange County. Furthermore, the workshop/retreat can also be offered to clients outside of the facilities who would like to sign up for the retreats, which may be conducted in Laguna Hills, Irvine, Santa Ana, or the Yorba Linda area from time to time.
Schedule
In order to have a lasting impact and tangible benefits, clients should commit to attend a minimum of one 3 hour workshop, or, better, a 15 hour "RISE UP PROGRAM" retreat starting on Friday evening and ending on Sunday afternoon. The schedule is as follows:
Friday: 5:00pm - 9:00pm Introduction and Talk / Including Dinner
Saturday: 9:00am - 12:00pm /Lunch Break/ 1:00pm - 4:00pm / Including Beverage and Snack
Sunday: 9:00am - 12:00pm /Lunch Break/ 1:00pm - 4:00pm / Including Beverage and Snack
There will be a 3 hour follow up session for 3 consecutive weeks after the weekend retreat, including a 1 hour complimentary meal or snack break for all the attendees. (Day /Time will be mutually arranged)
YOGA for The Victims of Violence at the Yoga Center of California